2.5mm Non reflective glass
Non-reflective glass – what is the difference?
Ever wonder what the difference is between diffused, reflection control, non-glare and non-reflective glass? There is none.
Each term is just a different way of describing the same result; a reduction in the amount of light reflected from the outside surface of a framed glass panel.
Non-Reflective
The visible light reflection of non-reflective glass is less than 2%, compared to 7% for ordinary clear glass.
Non-reflective glass can be used where reflections on ordinary glass make viewing the art underneath difficult.
Non reflective glass enhances the beauty of artwork with etched matte-like finish that scatters light to minimize unwanted glare.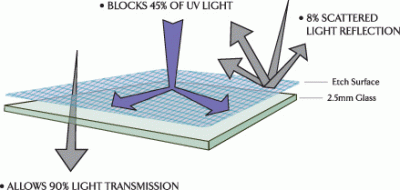 ---
Showing 1 to 1 of 1 (1 Pages)